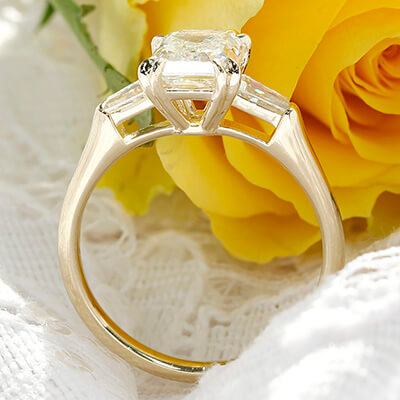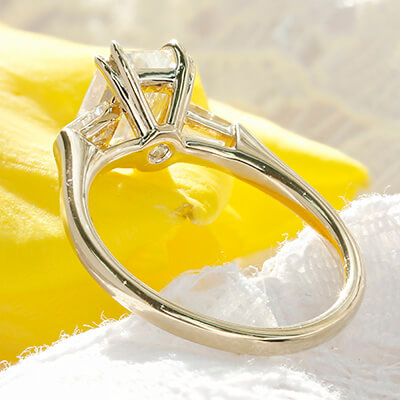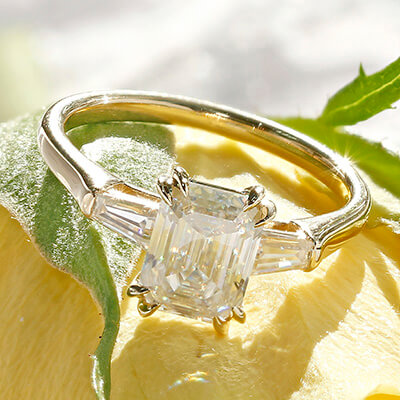 As seasoned custom designers, we've seen three stone engagement rings wax and wane in popularity during our decades in business… but frankly, they only wane so much.
Visually, there's the classic appeal of a three stone ring, with it's dazzling "wrapping effect" around the finger.
But perhaps more importantly, there's the deep significance that resides in a three stone engagement ring. Of course, there's the obvious symbolism: a ring that represents the past, present and future of love.
Some opt for the middle stone to be the largest, to serve as a reminder of the importance of living in the present, not holding on to grudges from the past or worrying excessively about the future.
Three stones can also symbolize fidelity, friendship and love–a wearable reminder of the keys to a good relationship.
Lastly, three stone rings can also possess religious significance with the stones representing the Holy Trinity.
So as you see, a three stone ring can mean many things to the wearer. One thing it always means? Beauty.
Let us custom design a three stone engagement ring that's right for you. We're experts at translating your deepest wishes into a wearable reality.