When it comes to buying jewelry, men can get quite…exasperated. What kind of jewelry will she like? What expresses how I feel for her without being too over-the-top? What won't break the bank?
During the early phase of a new relationship, it can be particularly hard to strike the right chord when it comes to gift-giving. This is when we suggest a pendant necklace. It's subtle, sweet and touches the heart of just about any woman.
What is a pendant necklace exactly?
If a necklace has a charm hanging from it, that charm is known as a pendant. The pendant is generally attached to the necklace (normally a chain of some sort) by a small hoop so it can move freely on the chain, creating a sense of movement and flow. It's perfect for casual wear.
What pendant you decide upon is completely up to your taste. It can be a heart, a circle, a symbol, an animal shape, the letter of a first name…the choices are practically endless.
But one thing for sure: pendant necklaces are people pleasers. Because of the long history of wearing symbols as a form of protection or sign of love, pendant necklaces feel good to the wearer – like she is wearing a personal message gently sent out to the world.
Here's one of our staff favorite pendant necklaces: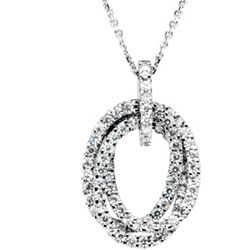 Currently 30% off!
Oval cluster pendant with approximately 1 1/3ct t.w. (dia equiv) Charles and Colvard created round moissanite set on an 18″ cable chain. Available in 14kt white gold only. Pendant measures approximately 1″ from the top of the bale to the base of the pendant. Each circle moves freely within the bale.
Use coupon "Discount30" at checkout. (Discount will be calculated at checkout)