Jackie O was a fashion plate for her generation. So obviously any jewelry she chose weighs heavily at auctions – even if it's not the real deal!
A three-strand pearl necklace belonging to Jacqueline Kennedy Onassis will be auctioned off as part of Bonham's "Pioneers of Popular Culture" Sale on August 15th.

According to British auction house, Bonhams, the necklace Jackie wore in the 60s is made from champagne-colored pearls with an emerald and diamond sterling silver clasp, with an estimated price of $39,300 to $47,200.

Yet, insider sources are buzzing that Mrs. Kennedy's neck candy is only worth about a few hundred bucks. The First Lady often chose to wear simulated pearls since she was prone to misplacing them, so it's the Jackie O legacy that's driving the price skyward.

Source: Jewelry.com
If 30 or 40 grand is out of your price range, consider our phenomenal freshwater price at a very un-auction price: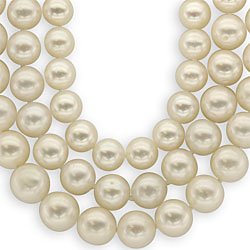 Single strand freshwater cultured pearls, 17″ with 14kt yellow gold clasp.
8.5mm-9.5mm: Now $299
9.5mm-10.5mm: Now $399
10.5mm-11.5mm: Now $499