I stumbled across this and found it pretty amazing. The video shows the industrial use of diamonds as a way to shape and create beautiful pieces of artwork. In most of these cases, moissanite is used, since it possesses almost exactly the same quality as diamonds for a fraction of the price.
To see some of our artwork with moissanite, check out our dedicated moissanite page.
Here's some of our moissanite artwork (not intended to cut glass unless absolutely necessary)!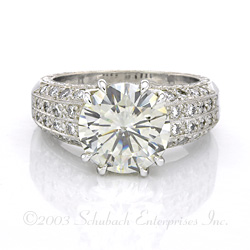 Round Pave' Moissanite Ring
Beautiful hand engraved pave' diamond or moissanite ring with a round center stone and four rows of pave diamonds weighing approximately .55ct in total. Can accommodate a center stone size of 2ct+ and is shown with a 4ct.
Center Stone Type: Natural Diamond, Clarity Enhanced Diamond, Gemesis Cultured Diamond, Moissanite, Radiance Diamond Simulant