While we all want to give that perfect gift this holiday, it's important to do a little research. When it comes to earrings, all are not created equal.
Size, of course, is a big consideration. If you're buying a pair of earrings for your wife or mother, take a look at the earrings she currently wears. Heavy earrings may not suit your diamond-stud wearing wife!
Here's a little more basic info on earrings so when you choose a pair, you can choose wisely:
Chandelier – very popular the last few years. As the name implies this style of earring has multi-level branches that hang down from the earring base. Normally gemstone briolettes (tear drop shaped gems) hang from the branches.
Drop – usually one larger gemstone, geometric shape or charm hangs from the earring base normally facing forward. Some drop earrings combine a charm and a gemstone. The basic design of the drop requires the earring to hang in a straight line from base to end.
Hoop – Angelina Jolie is the queen of the gold hoop earrings. As the name implies this earring is round or slightly oval and runs through the piercing in your ear. Hoops come in many circumferences from quite tiny to shoulder dusting.
Stud – Round gemstone earring with a post and earnut that goes through the post at the back of your ear to hold the earring on. Diamond studs are a classic look that are appropriate worn with ripped jeans to evening gowns.

Types of earring hangers:

Fish Hook – this is a type of earring hanger. As the name implies the part that goes through your ear resembles a fish hook
French Hoop – a rounded hanger that is open at the bottom to allow it to past through your piercing.
Leverback – made for both pierced and non-pierced earrings. The back of the hanger flips up to press against the back of your ear to hold the earring in place.
Screw On – non-pierced earring hangers with a terminator that screws up against the back of your ear to hold the earring in place. Rarely seen now except with vintage earrings. Most screw on earrings are extremely uncomfortable to wear for any length of time.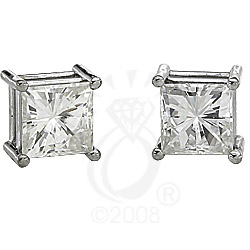 Style 7362M
Classic prong set stud earrings with Charles and Colvard created princess cut moissanite.
On Sale! Save 60% on select items.
Use coupon "Discount60" at checkout. (Discount will be calculated at checkout)
While supplies last