Did you know:
The Diamond is the birthstone of April?
The Diamond is the anniversary gemstone for the 10th and 60th years of marriage?
Diamonds were discovered in India in 500 B.C., and the name "diamond" comes from the Greek word "Adamas" which means unconquerable?
The ancients believed they were hardened dew drops, splinters from the stars or crystallized lightning?
A Diamond is the hardest existing substance known and is made of a crystallized carbon that has unique powers of light reflection. Since diamonds are composed of a single element, they are the purest of all gemstones.
Here's one of our most popular "star splinters":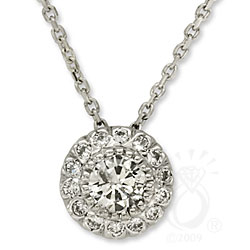 Our Classic Sweetheart Pave Nccklace
This popular necklace holds a 1/5ct t.w. round brilliant stones set on an 18″ cable chain. Fits a 4.5mm (1/3ct diamond) round center stone. (setting only, does not include center stone).