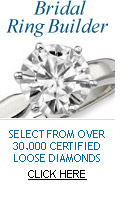 Joseph Schubach Jewelers expands its diamond offering
online with the Bridal Ring Builder program, an online
database of over 30,000 certified loose diamonds and a
collection of over 50 new, customizable engagement rings.
Now you can explore one of the largest inventories of loose
diamonds from the world's leading diamond cutters – and design
your own engagement ring – from the comfort and ease of your
home. And when you're ready for some expert help, the staff at
Joseph Schubach Jewelers will be there to answer any questions
you might have. We can even bring the diamonds into our office
for you to view and inspect prior to purchasing. The ease of
online shopping with the peace of mind of professional help,
it's just another way for you to have the diamond jewelry of
your dreams! Visit our website and start dreaming today!