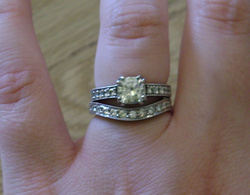 It's here and it's perfect and I love it!!!!!
Can't believe how quickly it came, wasn't expecting it until next week so was a lovely surprise.
Just want to say a massive thankyou again all
your help and please pass on a HUGE thankyou to your goldsmith for
doing such an amazing job.
I've attached some pics so you can see how well they go together, exactly how I imagined and hoped them to be!
Thanks again from the happiest (and sparkliest!) bride in the world,