June 27, 2012
A client told us about an experience she had not too long ago that went something like this:
She really wanted a new piece of jewelry. She hadn't purchased something new in years. Unfortunately she and her husband were going through a trying financial time and simply couldn't justify a new purchase. So she sat down with her jewelry box and dumped the contents on the bed. She spent a good deal of time untangling necklaces and matching earrings, finding the correct backings. She put aside pieces she no longer wore and readied them for a local thrift store. She arranged her jewelry properly, for easy, no-tangle access. She cleaned a few necklaces for a much needed shine.
And what did she find? That she had a forgotten treasure chest in her very own jewelry box.
What pieces do you have that you've forgotten about? What about a jewelry makeover for older pieces that you've always loved but need a new and improved look? Here's a great example.
June 7, 2012
Make your jewelry look like new again! The Full Spa Treatment consists of cleaning, polishing, refinishing, checking and tightening stones and giving your jewelry an all around bit of love!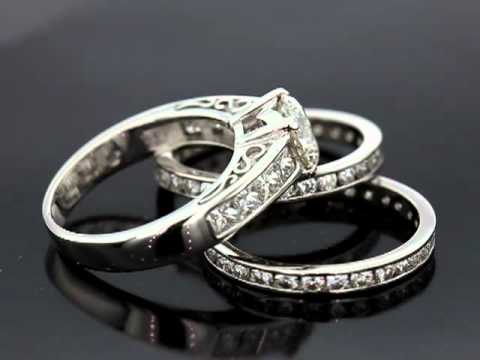 February 29, 2012
Here is something to think about – your jewelry needs maintenance! Like your cars, your clothing, your fine timepieces, your fine jewelry will also need a little TLC from time to time to bring out the luster and the sparkle and to make it look like new again. Fine jewelry is made from precious metals like platinum, 14kt or 18kt gold, or palladium. These metals are soft and over time they will scratch and scuff and loose their luster. In addition, most of the white gold jewelry made today has a rhodium plating on it to give it that bright white color that we all expect white gold to have. Over time this, too, will wear exposing the off color white gold beneath. The result is a worn, dull and faded looking piece.
In addition, through normal every day wear, your jewelry will build up layers of dirt, soap, lotion, oils, etc. underneath the stones causing them to loose their brilliance looking dull and lifeless.
Not to worry, that's what our Full Spa Treatment is all about. We'll give your fine jewelry the attention and care it deserves making it look like new again. The Full Spa Treatment involves a professional polishing, ultrasonic cleaning, high pressure steaming, rhodium plating, and stone tightening when necessary. We'll also look your piece over to make sure it's in tip top condition. This is the kind of cleaning and attention you just can't do at home on your own!
Give us a call or send us an email to arrange for a Full Spa Treatment for your precious jewelry.
Here's a before and after example of a ring that needed a little TLC.
February 29, 2012
We're seeing quite a few of these older cut stones lately – and we think they're amazing! If only these stones could talk. . . . . . This one belongs to a friend of ours who brought her ring in for the Full Spa Treatment. Looks like new again!