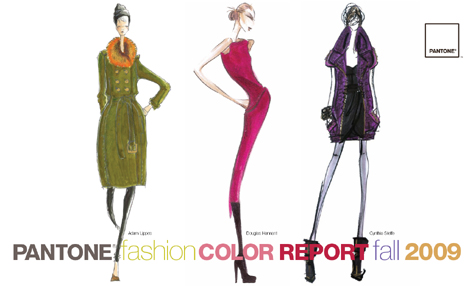 The release of the PANTONE Fashion Color Report coincides with the beginning of New York Fashion Week.
"Now more than ever, women are vigilant when it comes to spending," said Leatrice Eiseman, executive director of the Pantone Color Institute.

"Instead of reinventing their wardrobe at the start of each season, consumers want pieces to complement what they already own. Pairing a bold color with a basic piece or freshening up their look with bright accents addresses the need for practicality, as well as fun."

Yellow has made its mark on fashion and spring will further this trend with gleaming Aurora. Reminiscent of the first glimpse of yellow as the sun begins to rise over the horizon, this shimmering, slightly greenish yellow adds a bold infusion. Energy continues to surge throughout the warmer hues, leading to provocative Fusion Coral. This inviting orange connects directly to tangy Tomato Puree, this season's classic red. Pair it with Turquoise for a retro look.
When it comes to yellow, nothing is better than the complex and rich yellows of Gemesis, covering just about every shade under the sun. Not only is Gemesis is fashionable with its varied yellows, but costwise, you can have your cake and eat it too!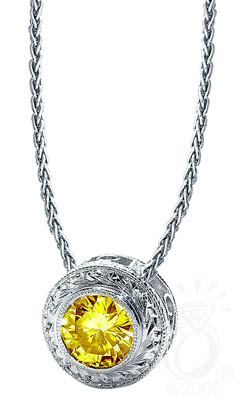 Style 9026GM
Hand engraved pendant with hand applied scrolls and a 3/4ct Gemesis cultured diamond with fancy yellow or orange color on an 18″ wheat chain. Pendant measures approx. 8mm in diameter.
Available Metal: 18kt White Gold and Platinum
Available Stone Size: 3/4ct