In some rather surprising news, one of the few demographics that doesn't seem to be bending due to economic pressure is (drum roll please): today's bride.
That's right. A recent study conducted by Modern Bride shows that "instead of reducing their wedding budgets, engaged couples have reprioritized and plan
to spend their dollars on items that will last forever."
This includes the honeymoon, photography and the (another drum roll) the engagement ring.
Couples are now looking at rings with serious lasting potential, making platinum the material of choice. Why platinum? According to the Conde Nast Bridal Group, platinum is not only 30 times more rare than gold, but it is the most durable of all precious metals and will last a lifetime.

"Even in the current economy, this is the one jewelry purchase
brides are unwilling to compromise. Today's bridal customer will make
the investment to have a ring that lasts a lifetime," said Michael Flynn , sales associate for Tivol.
Apparently, its not only diamonds that last forever…it's platinum!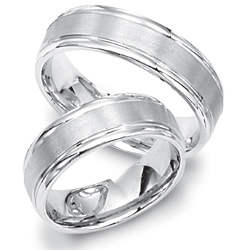 Joseph Schubach Jewelers Platinum Comfort Fit Band With Satin Finish Center And High Polished Sides
Platinum comfort fit wedding band, satin finished center, high polished sides, 6mm wide.
Available Metal: Platinum
Available Ring Size: 4 – 13
SOURCE ImagingInfo.com and Platinum Guild International