Say it outloud:
Mocha Gold.
It sounds as delicious as it looks, doesn't it? Luscious and rich, our mocha gold is a brilliant combination of colors that draws the eye and warms the heart. Our mocha gold is exclusively blended to exude the most inviting color possible. We're really pleased with the end result.
Below is a recent custom design OMC engagement ring with pink French side stones set in our exclusively blended mocha gold. Centerstone: Champagne OMC, expertly cut by our Scottsdale team.
The satin finish on the mocha gold is absolutely stunning! And the pink and champagne stones are just so perfect together.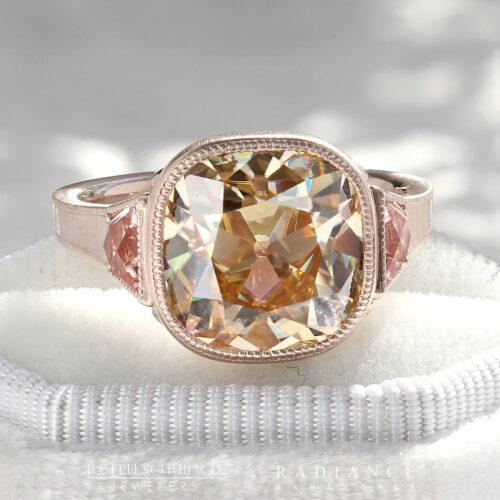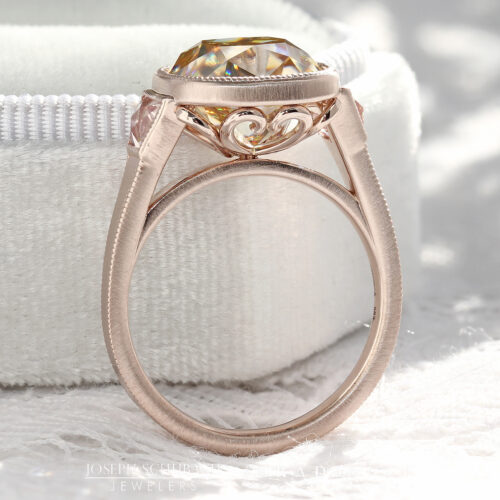 Here's another example of our mocha gold integrated into one of our popular designs:
This is a custom version of our amazing Manhattan setting, featuring our Schubach's exclusively blended mocha gold. How sleek does this look with the high polish finish?
And last but not least, check out the mocha gold with a brushed finish for a rustic, roughhewn beauty like no other:
Another Schubach Exclusive, this custom made bezel set Scroll solitaire engagement ring holds a champagne color, rose-cut center diamond and surprise diamond accent. Shown with a 3/4ct center stone in 14kt mocha gold and optional brushed finish.
If you're looking to use mocha gold as your metal of choice, let's talk details.

Joe