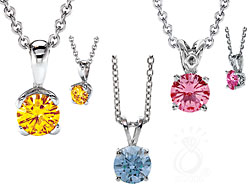 Yes, it's a long way off. But it's alright to take a little peak! As our economy slowly, slowly picks back up, we see hints of that same optimism in the fashion trends for this Spring.
American designers showing their Spring 2010 collections at Mercedes Benz Fashion Week in New York this fall have responded to the shift in the economy by using bold colors in comforting, familiar silhouettes, or creating eye-catching one-of-a-kind pieces that are completely irresistible.

Key design directions include the layering of sheer fabrics, more distinct color blocking, cut outs and splicing of angular panels, asymmetrical lines, acid wash, and mixing textures and patterns in a fresh patchwork. Dresses, tops and jackets pay homage to the back, promoting a "look as good going as coming" attitude—with some designers spinning two diverse looks front and back.

"But the fashion constant has been and always will be color," hails Nina Garcia, fashion director Marie Claire and Lifetime's "Project Runway" judge. "There's nothing like a vibrant hue of royal purple or golden yellow to make us feel optimistic and hopeful for the future."
Color is one of the most essential elements each season as it triggers the emotional 'buy me' reaction. But now more than ever, women are vigilant in their spending. "Instead of reinventing their wardrobe each season, consumers want pieces to complement what they own," tells Leatrice Eiseman, executive director Pantone Color Institute. "Pairing a bold color with a basic piece or freshening up a look with bright accents addresses the needs for practicality and fun."

Source: AGTA
Luckily, we're right on track, when it comes to color and affordability. Our Gemesis cultured diamond pieces are eye-catching and warming to any wardrobe. Wear a little positivity today….you deserve it!