"Micro pave is the next generation of hip hop jewelry. You can get that diamond look without paying diamond prices. Some of our customers are entertainers who could easily afford diamond bling style jewelry, but choose to wear micro pave jewelry as the quality is practically indistinguishable from diamonds." – Tom Diep of King Ice Jewelry
Yes, even the most diehard bling wearer is feeling the pinch of a tight economy. But all is not lost. There are alternatives – amazing alternatives like moissanite and Gemesis and Cubic Zircona – that offer that over-the-top jewelry experience for a fraction of the cost.
The tough economic climate also offers jewelry designers an opportunity to showcase their creative sides.
Take a look at some of these fun, micro pave pieces that let your bling sing!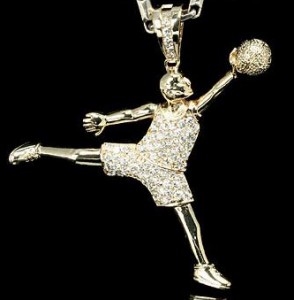 Source: SoJones