The Art Deco movement introduced styles that focused squarely on bold colors and sharp geometric shapes. Technology was evolving and Art Deco became part of the emerging look.
According to one Art Deco Jewelry website:
The economic and social pressures that immediately followed the First World War brought with them a new mood for a rigorous and clean-cut look.

Art Deco was an innovative design style popular in the 1920s and 1930s. Its sleek, streamlined forms conveyed elegance and sophistication. It was the age of the Flapper, the Jazz and the Machine Age.

Materials used ranged from rubies, gold, and pearls to plastic, chrome and steel. Platinum was the new luxury metal used with opaque stones like coral, jade, onyx and lapis lazuli. Costume jewelry became even more popular and outrageous.

Trend-setting couturiers were Coco Chanel and Elsa Schiaparelli. Influences were Pharaonic Egypt, the Orient, tribal Africa, Cubism, Futurism, machines and graphic design.

However, jewelry of the 1920's and 30's was in thrall to geometry: circles, arcs, squares, rectangles and triangles and so on. René Lalique, who created glass jewelry in the 1920's and 30's, created romantic designs from nature.
If you want to step back in time and create your own piece of Art Deco jewelry, contact us and we'll create a piece from your mind's eye. Custom design jewelry is our specialty.
Here are some ideas, to get the creative juices flowing: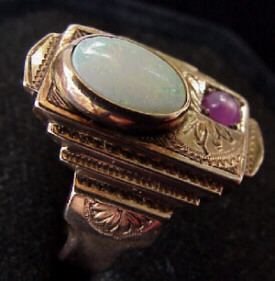 Art Deco Ring
photo courtesy of Sandra Smith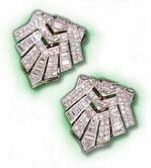 Art Deco Diamond Clips
photo courtesy of Richard Whitehouse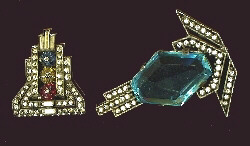 French Art Deco Silver &Paste Clip & Pin
1920s Theodor Fahrner Earrings
photograph courtesy of Ramona Tung