If you are the type who wants to keep up with the latest trend but realize your wallet doesn't seem to be as…fat as it used to, then this year will be fitting for you and your budget!
The 2009 "in stepper" will be donning unconventional jewelry, using varying materials and colorful gemstones. Woods, ceramics, sea shell beads, leather will all make their way onto the 2009 look. The nice part? Many of these materials are more affordable than some of their more traditional counterparts (seashell beads versus diamonds…hmmm. Which one can you afford this year?)
If you are a stickler for your gemstones, the trend this year is more colorful, unusually shaped gemstones. Think outside the box with brighter gems such as sapphire and rubies: an eye grabber any season, frankly.
No matter which direction you choose, COLOR is the main lesson to be learned this year. Experiment, be bright and be bold!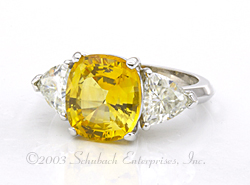 Genuine Yellow Sapphire And Moissanite Ring
Customized
and handcrafted version of style 1250M: 6.80ct yellow sapphire center
with 1.50ct (3.0ct t.w. dia equiv) moissanite trillions on either side
set into 14K white gold.
 
Metal: 14kt White Gold  
Stone size: 6.80ct 
Ring size: 4 – 8