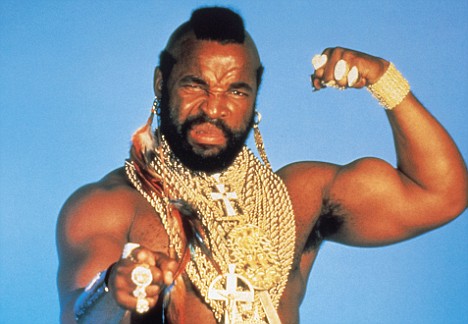 Oh no…don't look away! We all know that even men can overboard on the bling! Mr. T proved this in spades, but what is too much when it comes to men's jewelry? And what are some "must have" pieces for men? This article explains that, with just the right touches, you can look elegant and polished…without hurting the eyes!
mr. t is unemployed

Okay, so maybe some guys built their reputations with the amount of gold wrapped around their necks. Heck, there's even one rapper with flavor that became famous because he wore a huge clock around his neck. But the A-Team stopped production and Public Enemy isn't number 1 anymore.

Although it is amusing to see the dude with the Mohawk strut his stuff with 75 pounds of jewelry draped all over his body, no one in the real world would be taken by such a fashion statement, or lack thereof.

When it comes to guys and jewelry, minimalism is key. Believe it or not, it is possible to portray an image of class and sophistication. And if you want the ladies to think you're made of money, that's possible too.

is that a gucci?
Of course, every guy has to own a watch — and I'm not referring to some contraption that has Mickey Mouse's hands moving around the dial. Rather, every man should own a few watches, one of which is expensive, classy and timeless (ha, the irony).

Leave your Nike watch at home on those days when you're trying to make an impression. There are plenty of watches that turn heads and from my Hugo Boss watch alone, I've been the target of many a woman's interest.

Of course, that's not to say that your watch will do all the talking for you, but rather, a beautiful timepiece can pique the interest of the honeys who know their brand names. And there's no harm in that, at least not until they start asking for brand-name items of their own.
what else should guys wear?

Besides the typical watch, what other jewelry is acceptable or unacceptable for guys? Well, I'm glad you asked so that we can clear this up once and for all.

Rings
Unless your name is Fat Tony, I don't recommend that you wear all kinds of 14K gold, diamond encrusted pinky rings.
Acceptable: A wedding band or a simple ring (read: no frills) is acceptable so long as it's one ring per ten fingers.

Chains

Wearing a chain around your wrist isn't the end of the world, so long as it doesn't clash with the watch you've got on.
Acceptable: Wear a strong, sturdy chain (thick enough to suit your wrist); those are typical of men's dress and look best on a man's wrist.

Necklaces
Necklaces that have the ability to give you a sore neck or that possess some tacky pendant of a Play..boy bunny or that say "#1 Lover" should be chucked right this minute. Well, go on, I'm waiting…
Acceptable: Again, simplicity is key. So a thin necklace with a small pendant (cross, star of David, zodiac sign, etc.) or no pendant at all can go a long way. Even a beaded necklace can look great with the right outfit.

Earrings
I'm not sure if you're aware of this just yet, but earrings for men went out of style in the mid-'90s.
Unacceptable: If you're wearing earrings, then you'll probably disagree with my assessment about earrings, but believe me, everyone who sees you with metal in your earlobes thinks you're tawdry.

Body piercings
Bellybutton, tongue, eyebrows, chin, nose… I strongly disapprove of most of these. If you have model appeal, then maybe you can pass with an eyebrow ring.
Unacceptable: Under no circumstances should guys have a piece of jewelry stabbed through their navels; leave that for the ladies. And that goes for the tongue and nose rings too.

go alongs are no-nos
You still have to keep a few things in mind when you sport jewelry. If you're wearing a ring, that's fine, but for God's sake, don't let your pinky nail grow. In fact, keep all your nails trim and dirt-free.

If you're wearing a necklace, don't unbutton your shirt down to your chest and have the necklace hanging between your nipples. All necklaces should hang just past your collarbone.

Ultimately, it's up to you to wear jewelry whichever way you see fit. What looks good through your eyes, however, may not seem so through mine. To each his own, but the next time you see some babe laughing in your direction, it's quite possible that it won't be because she's impressed by the silver bunny hanging from your neck and caught in your chest hair…
Source: Ask Men