It's Monday and class has officially begun. So sit down in your seat, take that baseball cap off and get that pencil out of your mouth!
You see, at Joseph Schubach Jewelers, we feel an educated customer tends to be a happier customer. They know the right questions to ask and we have the answers at the ready.
Today, let's talk a little bit about metal finishes, which can make a big difference in the look of your final product:
Metal finishes

For platinum, gold, and silver jewellery there are many techniques to create finishes. The most common are: high-polish, satin/matte, brushed, and hammered.

High-polished jewellery is by far the most common and gives the metal the highly-reflective and shiny look.

Satin, or matte finish reduces the shine and reflection of the jewellery and is commonly used to accentuate gemstones such as diamonds.

Brushed finishes give the jewellery a textured look, and are created by brushing a material (similar to sandpaper) against the metal, leaving 'brush strokes'.

Hammered finishes are typically created by using a soft, rounded hammer and hammering the jewellery to give it a wavy texture.

Some jewellery is plated to give it a shiny, reflective look or to achieve a desired colour. Sterling silver jewellery may be plated with a thin layer of 0.999 fine silver (a process known as flashing) or may be plated with rhodium or gold.

Base metal costume jewellery may also be plated with silver, gold, or rhodium for a more attractive finish.

Source: Wikipedia
So there you go – a lesson in finishes. Now go forth and conquer!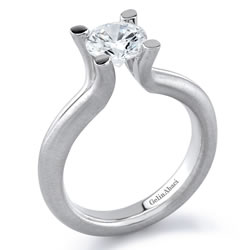 Style 9504M
Tension set ring with brushed finish (setting only, does not include center stone)