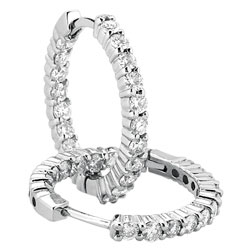 Prong set inside out hoop earrings set with round brilliant stones.
If practicality and fashion are both important to you, then these simple yet stunning earrings are a must-have.
Hoop earrings are held securely in the earlobe, decreasing your likelihood of loss. And they feel light to wear as well. Their circular design is eye-catching and goes with just about any outfit. The "inside out" design makes these earrings a cut above other hoops.
We can semi-custom design these earrings so they're personalized to your tastes…and wallet! You choose the metal, you choose the stone. Whether it's moissanite or natural diamonds or sapphire or platinum or silver…or anything else you have in mind, we can custom design this must-have jewelry to fit your exacting tastes.