Woo hoo! It's time to put the conservative, recession-era mindset in a box for a night. No talk about wise, understated jewelry choices. No sir.

It's New Year's Eve.

It's time for lavishness. Outlandishness. EXCESS!
This New Year's Eve, pull out that piece that seems a little too much and wear it, proudly. Trust me, this mentality only works for December 31. So why not overdo it this year?
Pull out the stops, baby!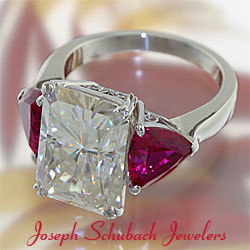 Style 3366M
Classic hand made three stone anniversary ring with hand applied filigree in the galleries. Available in any combination of center and side stone types, sizes or shapes. Shown with a 9 1/4ct radiant center and 4ct t.w. ruby trillion side stones