You want to give her something special – something that represents your feelings…but her tastes as well. How do you eliminate the risk? Nobody wants to hear "Um…it's…wow, that's really nice. Hmmm…"
One simple thought? Inspect the jewelry she currently wears. Get a sense of her overall taste. Does she go for bold, bright pieces or subtle, understated pieces? Does she wear one piece of jewelry repeatedly or change pieces constantly?
If you're really unsure, talk to your jeweler.  There are always a few pieces in any collection that just about any woman would love. A simple, elegant piece works in just about any situation.
Here's a favorite of ours that we always feel confident suggesting (because we get nothing but good feedback from the wearers.)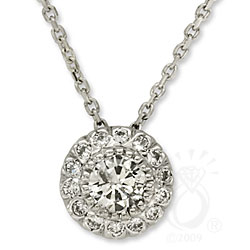 Style 10119-4.5mm (1/3ct)
Classic Sweetheart pave necklace with 1/5ct t.w. round brilliant stones set on an 18″ cable chain. Fits a 4.5mm (1/3ct diamond) round center stone. (setting only, does not include center stone).