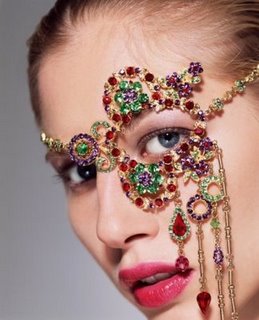 Image from http://carmaworldindianshopping.wordpress.com/tag/jewelry/
You've seen her before. She seems to have all the most fashionable clothes, the most "in step" pair of shoes and most dazzling jewelry yet somehow looks like…like a virtual train wreck!
All of us can fall victim to fashion sometimes. It's easy enough to do. Some of the latest fashions looks great on a runway model – but not on you!
So here are some pointers to reduce the "fashion train wreck" quotient in your life:


1. Find that metal that suits your mood. Just because its gold doesn't mean it glitters on you. These aren't ironclad rules but for the most part, brunettes,
redheads and grays look better in silver jewelry, while blondes look smarter in
gold. Women with black hair can go either way.
2. Match your jewelry to your clothing. Sapphire earrings can really showcase your favorite deep blue dress, for instance. But take some time to experiment. Sometimes really powerful earrings can overwhelm a dress. You're looking to accentuate not overpower. If you're wearing black, you can pick from numerous pieces (hence why black is such a "go to" color, fashion-wise.)


3. Match jewelry with other jewelry. Some people play jewelry a little too safe! Try a series of bracelets or two necklaces that naturally compliment one another. Try two complimentary but different earrings. Take some fashion chances – but ask a friend first, before you walk out the door!
Here are some other tips from the experts:
Tips
Black makes bright colored stones pop.

Wedding rings don't have to match other metals in your jewelry.

Wear necklaces 3"-4" below your neckline.

Wear larger earrings for a "smaller" appearance.

Use proper sizes of jewelry to match your body shape. Petite women
will often be overwhelmed by a piece of jewelry that looks delicate on
larger women.

Keep textures the same – antique with antique, shiny with shiny etc.

Wearing 3 bracelets on one arm is an attractive option.

Wear a bracelet with your watch.

Long necklaces create vertical lines, thus making you appear taller and more slender.

Jewelry is the most cost-effective accessory you can own & changes the look of each outfit.

Wear jewelry to add color. For example if you're wearing an all
black and white outift, a pink necklace, and/or bracelet, and/or watch,
w

ill really dazzle.
At Joseph Schubach Jewelers, we have jewelry to suit every occasion and any outfit. What makes us truly unique is our craftsmanship. We can create a piece of jewelry with only you in mind. Take a look at our site for some ideas. You dream it, we create it!