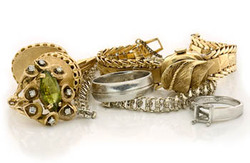 Trade in your old jewelry for new, another way to get the jewelry of your dreams!
Your old, unused gold and platinum jewelry is worth hundreds, even
thousands of dollars – more now than ever before. Why not sell your old gold and turn it into something new and exciting! Joseph Schubach
Jewelers will buy your old gold and platinum jewelry out right or apply
it to a new purchase. It's an easy way to get that ring you've had your
eye on – or to get some extra cash!
Contact us for details on how we can help
you turn your old memories into new ones.
We Buy:
Gold Jewelry
Platinum Jewelry
Diamonds over 1ct
Contact a representative for details
888-724-8222