Sterling silver is a common alloy used in jewelry making. But a lot of myths surround sterling silver. Some say it tarnishes too quickly or that it's not high quality.
Truth is, there are many different types of sterling silver and it's important to know your facts before making a purchase. Sterling silver can be a great, affordable element to your jewelry collection, if you choose wisely.
When buying sterling silver, look for .925 silver. It is by far the highest quality of sterling silver you can buy. If it is. 925 silver more than likely you will be told that or it will be advertised as such. If it is not advertised that way, be sure to ask, as more than likely it is not.

When buying sterling silver you need to know that it is natural for it to tarnish. The process of air and oxygen exposure to silver tarnishing it is called oxidation. This can be prevented by keeping your silver in a plastic bag (like a sandwich bag), with a small piece of carbon paper enclosed. This will stop the oxidation process.

Buying sterling silver is easy and keeping it clean is as well. Be sure to buy a couple of polishing clothes and give it a quick wipe or two before you wear it just to add that extra shine. If you keep it in the bag with the carbon paper though, it should not need much polishing.
Source: eHow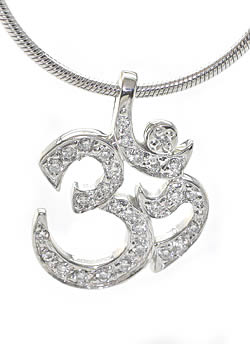 Style 4504


Pave' "OM" pendant with just under 1/6ct t.w. round brilliant diamonds on an 18″ snake chain, approx. 5/8″ tall.