As moissanite climbs the ranks in popularity with those interested in a quality product with an eco-friendly slant, we wonder whether its just an indicator of a troubled economy or a sign that shoppers are developing different preferences at this point in our history.
Here's an excerpt from JCK Online with CEO Randy McCullough of Charles & Colvard:
There has been a lot of confusion over whether moissanite should be marketed as a diamond substitute or its own product. Where do you stand on that?

Nothing is a substitute for a diamond. I don't care what anybody says. There is no person in the world that wouldn't rather own a diamond. If that changes, something is wrong with the world. But not everyone can afford a diamond.

So moissanite is a great alternative. Everyone wants the experience of wearing two carats on their ears. With moissanite, they can do that. It's an affordable luxury experience.
Here are a few of our top moissanite sellers: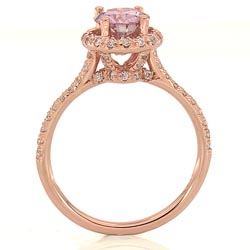 Stunning, delicate 14kt rose gold engagement ring set with a 1.0ct (dia equiv) Charles and Colvard created round moissanite color enhanced to spring pink surrounded by 1/3ct t.w. white diamonds. Matching earrings also available.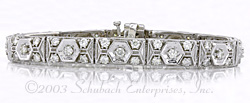 Style 7064M
Antique style filigree bracelet with Charles and Colvard created moissanite. 3/16″ wide and the standard 7″ long.
Available Total Weight: 3.60ct t.w.