Many are fearful of buying jewelry online. Fortunately, it's never been a safer and easier process. Especially with well-established online jewelers like us!
Jewelry online can be as much as 50% less than retail. So once you've found yourself a secure and reliable source, you can feel safe while saving money!
Here are a few other pointers when purchasing jewelry online:
Familiarize yourself with how to measure quality in gold, diamonds or other items you may wish to purchase. Know the difference between carats and karats.

Enter the word "jewelry" in a search engine such as Google or Yahoo. If desired, enter more specific words such as "rings," "diamonds" or "gold."

Browse sites for information. Some sites offer jewelry made by known manufacturers while others have their own jewelers that make the pieces for sale.

Read information on guarantees, secure ordering and returns. A piece of jewelry is a major investment, and you want to be sure your purchase is guaranteed and that your purchase price can be refunded if you want to return the item.

Check to see if certificates are given, particularly for diamonds.

If you are confident that the site is secure and reputable, browse the categories ("diamonds," "gold," "watches," "rings," and so on) or do a site search using the key word or words of the item you are looking for ("gold watch," "diamond ring," and so on).

If you find a piece that interests you, you may have to click its image to make it larger so you can get a better look. While this is not necessarily a good substitute for seeing the piece in person, it will give you a pretty good idea of what the piece looks like.

When you order, pay special attention to sizes and other options offered. (For example, do you want the diamond set in a yellow gold or white gold band?)
At Joseph Schubach Jewelers, if there is ever a problem, we can address it quickly and thoroughly. We pride ourselves in customer service so you can feel safe and comfortable with the entire process.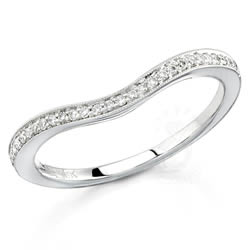 Style 9337
Flow wedding band with .21ct t.w. pave' diamonds and milgrained edges in 14kt white gold.