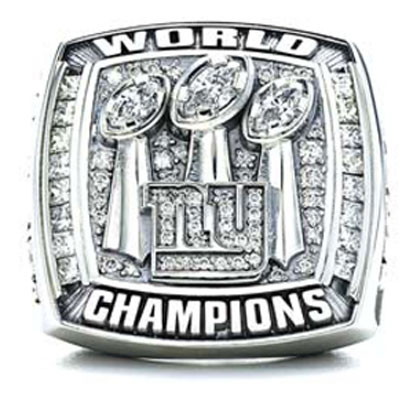 (above) The Giants Super Bowl championship ring from 2 years ago. The design of the New Orleans Saints Super Bowl ring has not yet been revealed!


We know the Saints will get them…but did you know how much they cost? How much their worth? Their history?

Well, here at Joseph Schubach Jewelers, we're here to fill in the blanks for you. Heck, we can make you your own Super Bowl Ring, made of moissanite or other diamond alternatives – if $5,000 is a little too steep!
The Super Bowl ring is an award in the National Football League given to the members of the winning team of the league's annual championship game, the Super Bowl.

These rings are typically made of yellow or white gold with diamonds. They usually include the team name, team logo, and Super Bowl number (usually indicated in Roman numerals).

The NFL pays for the cost of 150 rings to the winning team, at roughly $5,000 apiece, depending upon the fluctuating cost of gold and diamonds. The winning team can typically present rings to whomever they choose, including usually, but not limited to: players (active roster or injured), coaches, trainers, executives, personnel, and general staff.

Some teams have also been known to give rings to former players, despite not having been on the winning roster.[1] Teams can distribute any number of rings, but must pay for any over the 150-ring limit.

Many rings feature diamonds in the shape of the Vince Lombardi Trophy or a football. Some feature diamonds or gold in the shape of a team logo. Others illustrate the number of Super Bowls that franchise has won. Also, the rings are customized with the player's name and uniform number.

Replicas of the rings for various years are popular collectibles, along with genuine rings. Dave Meggett is known to have placed his ring for sale on eBay. Two Super Bowl rings from the 1970 Steelers sold on eBay for over $32,000 apiece in mid-2008.[2] Patriots safety Je'Rod Cherry raffled his ring from Super Bowl XXXVI in November 2008 to benefit several charities working to help children in Africa and Asia.[3]

Go, New Orleans! You deserve a break!