August 25, 2016
In fading light of the end of summer, where bugs seem an ever-present part of the seasonal scene, we couldn't help but love on this insect inspired jewelry by a number of designers, including Gucci, Stephen Webster and Los Angeles-based Jennifer Herwitt (who designed the amazing bee earrings below).
According to Herwitt [The Los Angeles Times]:
"At first, people react as if they hate or are scared of insects," says Herwitt, about the insect and arachnid pieces she creates for her jewelry line J. Herwitt. "[But] once they see they are diamonds and gold, they start to see the beauty and the delicacy and intricate details that make [them] so realistic."
If you're looking for insect-inspired earrings, our custom design can get your project buzzing!
August 23, 2016
Hi Joe,
Thank you so much for all your hard work on the anniversary band. It is absolutely beautiful and looks wonderful next to K's wedding band and engagement ring.
We are excited to visit Scottsdale around Thanksgiving and look forward to stopping by the shop.
Hope all is well.
Thanks again,
C
August 23, 2016
Christie's is preparing a "landmark auction of The Private Collection of President and Mrs. Ronald Reagan, the celebrated 40th President and First Lady of the United States," slated for September 2016 and coinciding with Christie's Americana Week sales series in New York. Proceeds from the auction are designated for The Ronald Reagan Presidential Foundation and Institute.
While the auction encompasses everything from furniture to memorabilia, our eyes are on the jewelry, especially the 40th First Lady's Van Cleef & Arpels diamond and gold lion pendant/brooch necklace and matching diamond and gold lion ear clips worn on a state visit to the U.K. in 1988, worth an estimated $50,000 and $20,000 respectively. These pieces (that the First Lady wore on a state visit to the U.K. in 1988) are expected to lead the jewelry sales.
August 22, 2016
We're all coming down from a week of globally felt excitement post-Olympics. But we're keeping it alive by reviewing some of the jewelry worn by some its top athletes. You might think many athletes wouldn't don jewelry (since it could interfere with their performance) but USA star Kerri Walsh Jennings is a big believer in the power of positivity.
One of her primary positive sources?
Me&Ro Hand of God Pendant.

The majority of pieces worn by Walsh Jennings come from Me&Ro. Jewels from the New York City based firm have acted as her lucky charms since she won her first gold medal at the 2004 Summer Olympics in Athens. "Kerri is a big believer in the power of positive everything and jewelry is a part of that," says Me&Ro designer Robin Renzi who became friends with the volleyball player after spotting her in the jewels on television.
August 19, 2016
Let's go ahead and get this ring made… I got a girl to marry! :-)
RN
August 18, 2016
As more of us move toward ordering jewelry online, we run particular risks. Of course, its critical to find a trustworthy jeweler with an impeccable reputation (have you seen our reviews lately?).
Also important? Finding a piece of jewelry that fits properly. Sure, you can work with most jewelers to adjust the size but isn't it great when you get it right the first time? It saves you time, money and hassle.
This great little article in Sundrop Jewelry details the perfect way to size your wrist:
Measure your wrist: Take a flexible measuring tape, strip of paper, or piece of string, and wrap it around your wrist below the wrist bone where you would normally wear a bracelet.
If you used a strip of paper or string, mark it where the end meets.  Then measure it with a ruler.  (If you don't have a ruler, print out your own at printable-ruler.net)
This is your wrist size.  But don't order just yet!  If you bought a bracelet that was exactly the same length as your wrist size it would be too small – you need a little slack to account for the thickness of the beads, and to fasten the clasp.
To find your bracelet size, you have to add a little more length. Â Depending on the fit you desire, add this to your wrist size:

Snug fit – add 1/4" to 1/2″
Comfort fit – add 3/4" to 1″
Loose fit – add 1" to 1 1/4″
August 16, 2016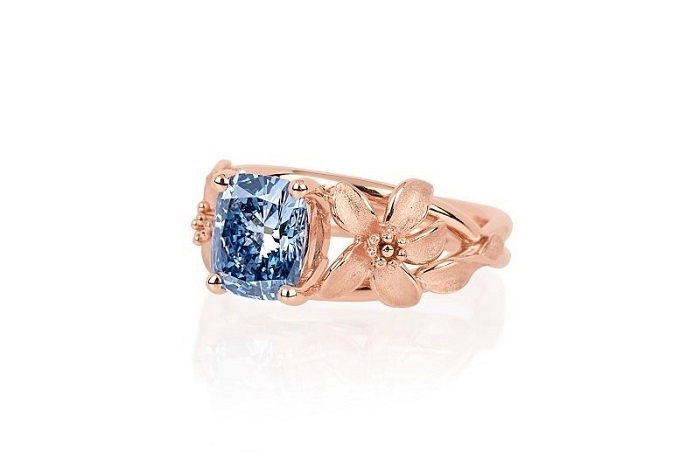 What a ring! What a shade of blue!
Russian conglomerate World of Diamonds just unveiled an incredible blue diamond ring. Their 2.08 fancy vivid blue cushion shaped diamond is set in a platinum setting and plated in rose gold, and is named "The Jane Seymour" Diamond after the famous Bond girl.
According to Naturally Colored:
The ring celebrates the illustrious career and philanthropic efforts of Jane Seymour, an accomplished actress, producer, painter, businesswoman, philanthropist and Officer of the Order of the British Empire (although it is unclear whether the funds from the ring will go toward philanthropy or to WOD).
We hope the price tag doesn't make you blue:
$2 Million
August 15, 2016
It's that time of year again, where we don our summer best, looking fashionable and trying to stay cool. And this is no easy feat. Some jewelry is particularly vulnerable to the effects of summer (salt water, chlorine, etc). By taking a few simple precautions, you can have your summer fun without it taking a toll on your fine jewelry.
The biggest piece of advice?
Take it off!
When it comes to summer activities, most do not require a statement necklace. Whether it's swimming, hiking, gardening or camping, you risk losing your jewelry during a physical activity…and we don't want that! We suggest bringing a special case for your jewelry pre-activity or better yet, leave it at home and look smashing at night!
Remember: chlorine, saltwater, sunscreen, direct sunlight and even sweat can affect gems and metals.
If you do expose your jewelry to summer's hazardous material, remember that cleaning your jewelry doesn't require special accessories. A bowl of water with a few drops of dish detergent usually does the trick. Dry gently using a soft cloth.
August 11, 2016
We love pearls and we carry them for one good reason: they can be worn with just about anything, all the while maintaining their "classic fashion" status (meaning you can't go wrong giving them as a gift, right?).
But like other jewelry, there are some loose rules to follow when donning them. This video tutorial gives great (and simple) pointers to follow (or not, because we love you fashion rule breakers out there too!)
Save
August 9, 2016
The dress? A stunning gold sequined column by Brazilian designer Alexandre Herchcovitch. (And yes, we're still oohing and ahhing over it.) Retired supermodel Gisele Bunchen donned this amazing work of art for the Olympic opening ceremonies, as she strutted down a catwalk like no other.
As the LA Times pointed out: "If modeling was an Olympic sport, BĂĽndchen's Rio de Janeiro opening ceremony walk Friday night couldn't have ended any place but the gold medal winner's podium."
Since this dress is positively shimmering (like wearable jewelry, dare we say?), we did a little digging to find out the story behind the design.
According to Vogue, designer Alexandre Herchcovitch. had this to say:
What was the creation process behind the outfit? What materials and ideas were important? Is there a message behind the clothes?

After I received a briefing, I sketched some ideas and sent them to Gisele. Some adjustments were made. I've met with Gisele four times in the past few months. I took her measurements. We talked a lot about how we wanted it to be. There were three tests, and finally the clothes were ready! The fabric has been specially developed for the occasion with some peculiarities, such as the fluidity in which the sequined embroidery would flow horizontally around her body. I didn't want a conventional gold, but a color that was very similar to her hair tone and skin, a golden light.
Save
Save