April 27, 2016
Metal finishes on jewelry are commonly used in jewelry making and gives the metal a shiny, highly reflective look. But finishes can also be used to reduce shine and create a matte look (which accentuate gemstones like diamonds).
Brushed finishes are another technique that give jewelry a textured look and are created by brushing a material (like with sandpaper) against the metal, leaving stylish brush strokes.
Hammered finishes are relatively self-explanatory. They're created by using a round hammer and give jewelry a distinctive wavy texture.
There are other interesting and creative finishes, such as stone finish or glass blasted, each creating its own particular look.
What finish is right for you? Like a thumbprint, each finish is unique and individual. When looking at the chart below, decide which ones speak to you and match your personality and lifestyle!
April 26, 2016
We're more than just jewelers here at Joseph Schubach's. We consider ourselves fashionistas of sorts. And why wouldn't we? Jewelry and fashion go together like Romeo and Juliet, like peanut butter and jelly, like diamonds and forever!
So we couldn't help ourselves after watching the insanely popular Beyonce video "Lemonade" that aired on HBO on April 23. It's an epic watch, containing all of the tracks from her new album.
The dress? A canary yellow ruffled Roberto Cavalli number designed specifically for her. Love the fat hoop earrings to add an extra level of boldness.
April 25, 2016
We're still reeling from the death of Prince. Not only has his music defined eras in our lives but his truly iconoclastic spirit has inspired millions of us. His fashion was uniquely his and often ahead of it's time, expressing flamboyance, style and a broader vision of gender and sexuality.
May we all continue to be a bit bolder and spirit-free in his wake.
There are no accidents. And if there are, it's up to us to look at them as something else. And that bravery is what creates new flowers.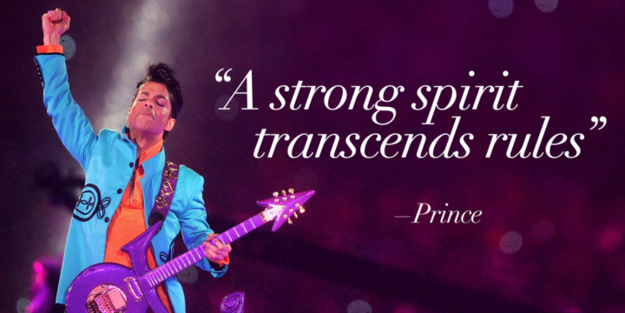 April 21, 2016
Don't toss it! We know you want to but think, think. But most old or broken jewelry can easily be "reborn" using these fun and easy hacks. Remember it's green-friendly and just plain fun.
BuzzFeed has a creatively inspiring article with tips to bring your "vintage pieces" back to life.
Here are a few snippets but check out more here.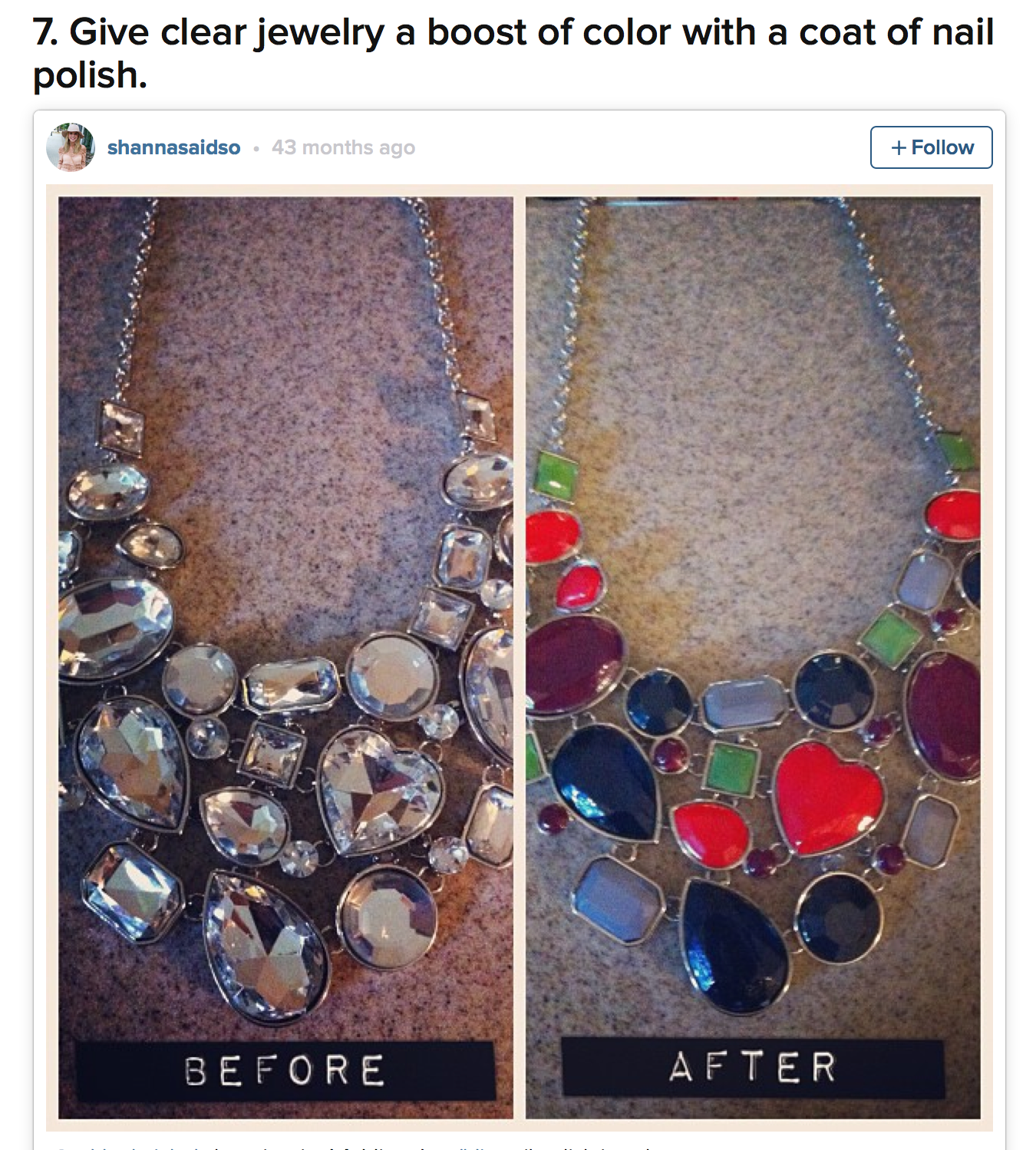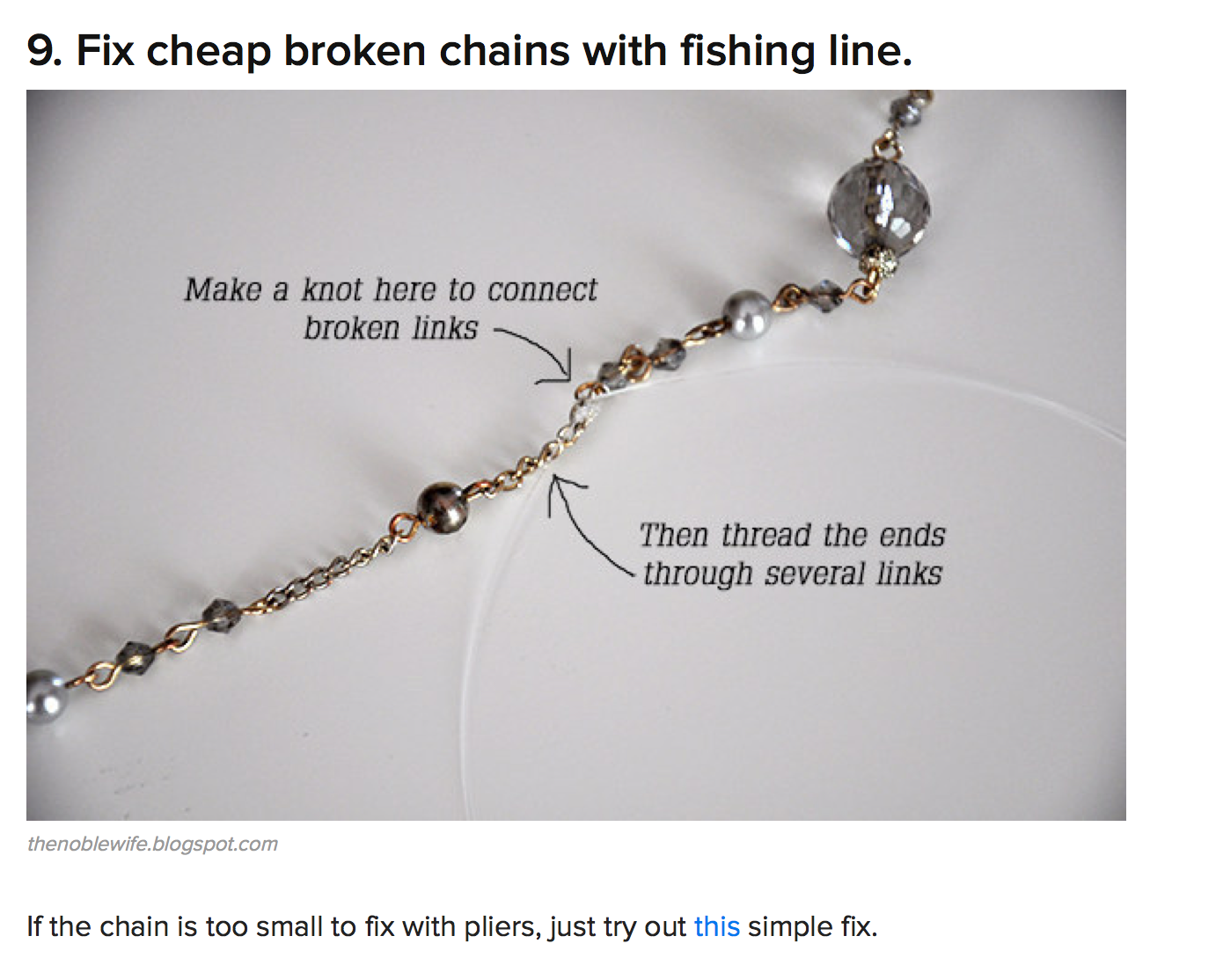 April 19, 2016
We must admit, some of the statement necklaces over the years have not always suited our tastes. But we certainly like the recent trend, where these more ostentatious pieces are balanced by simpler, cleaner fashion lines (like pictured above).
The main reason is that fashion is becoming less intricate. Instead of prints, we are seeing monochrome fabrics in a variety of different textures and shades, with clear-cut silhouettes increasingly favored over multiple layers. It is a clear shift toward minimalist, finessed styles.
What we suggest? Try out a statement necklace (like the one below) with a basic black dress or a simpler, scaled-down outfit.
April 18, 2016
What to do with that awkward empty space on your finger after a divorce? Many are happy to have a blank canvas for a while but in the case of Drew Barrymore, as an artist, she decided to replace the space with something creative:
The actress, who recently revealed that she's divorcing husband Will Kopelman after nearly four years of marriage, has decided to ditch her wedding ring and rock a new accessory on that finger. And it's not just any random piece.

Barrymore was honored at the ASPCA's 19th annual Bergh Ball last night in New York, and while holding her award, we noticed that a nice blue and gold ring has replaced her diamond. The new ring is a 14-carat gold and blue enamel piece with words, "Qu'Hier Que Demain," which is a portion of the French phrase meaning, "More Than Yesterday, Less Than Tomorrow."

Source: Mashable
April 14, 2016
When you think groom at a wedding, undoubtedly you see him dressed like this, right?
But since Spring is bursting onto the scene, grooms are now encouraged to think outside the standard black tux or suit.
Why not, right? If a bride is wearing the most expensive dress of her life, shouldn't a groom kick it up a notch a little?
2016 wedding trends are displaying more and more men in colorful (or white) wear for their big day. And we couldn't be happier. We love Spring weddings draped in color and embracing the beauty of the season or the rich vibrancy of their surroundings. Here are some great examples, found in Bridal Guide.
April 12, 2016
Black rhodium can be seen trending in jewelry publications this season and we're certainly no stranger to its beautiful and practical beauty.
First of all, what is rhodium?
It's a very rare member of the platinum family and one of the most expensive rare metals. While the price can fluctuate considerably, an ounce of rhodium can go for around $2,500 dollars (!)
Due to its extreme toughness, it can easily resist corrosion and scratches.
What are the benefits of black rhodium?
It's highly reflective so its sultry silvery color makes a perfect plating material. It creates the perfect backdrop for gemstones to really "pop."
Here are a few examples of black rhodium:
Note how the gems really pop against the inky backdrop of black rhodium:
April 11, 2016
A friend of mine got herself into a bit of beauty quandry. She wanted a "big change" in her life after moving across country so decided a short haircut would help define this new phase. Only one small problem: she can't stand her new haircut.
"My face isn't the right shape for a cut so short. It makes me look like a boy." I didn't think it looked that bad but I did make a suggestion that I knew would increase the femininity quotient: earrings, of course.
It's not only that earrings add that certain feminine touch to a short do, but also helps balance a cut that doesn't fit the face the way it should. (Earrings also draw attention away from the haircut!)
April 9, 2016
Joe,
She absolutely loved it!
The fit was perfect and the little details inside the band truly set it apart from anything else.
Thank you so much for making the perfect ring.
Thank you,
W