March 11, 2014
Stick earrings have the convenience and class of stud earrings with a dash of punk rock appeal. Often called "Thai Stick Earrings" here are a few fun examples. And remember, if any appeal to you, we're ready to create a pair especially made for you.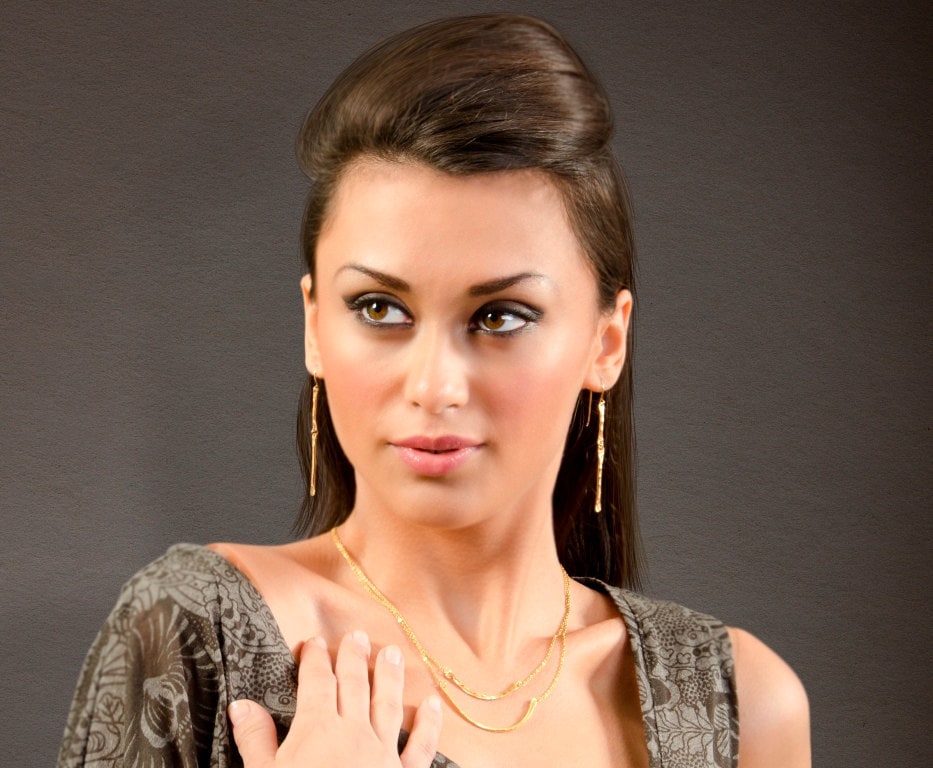 March 10, 2014
What a varied and multi-faceted (excuse the jeweler's pun) birthstone for the month of March. As the author of this JCK article points out, the colors of aquamarine can range from "the palest, most delicate shade of sea blue to one so vivid it can be confused for blue topaz." Check out the many faces of March's aquamarine:
Those born in the month of March should consider themselves lucky: They have one magnificent gemstone to call their own. Ranging from the palest, most delicate shade of sea blue to one so vivid it can be confused for blue topaz, it's hard to find a gemstone, metal type, or clothing ensemble, for that matter, that won't pair well with aquamarine.
Source: JCK Jewelry
March 5, 2014
"Multimedia artist and designer Mana Bernardes finds pure poetry in the flotsam of our lives and consequently is able to incorporate seemingly unusable materials such as PET bottles, phone cards, toothpicks, hair clips, plastic netting, pearls, silver, and gold into Mana's handcrafted collection. She has also joined forces with community education social projects at the Museum of Rio de Janeiro and the European Design Institute of Sao Paulo, where she works with teenagers and students teaching jewelry making and entrepreneurial design skills."
Source: Inhabit.com
Mana Collection 'Spatial Card' necklace made of Recycled Phone Cards and Plastic Magnet Latch The Mana Collection by TOUCH
March 4, 2014
A beautiful clip from an amazing documentary. Sharing the Rough gives a unique view of the process of a gem's journey from mine to finished jewelry.
The documentary follows the life of one gem (the type will remain secret until release) through the whole process–from the hands of the East African miners, to the gem cutter before finishing with the designer that brings it to life in fine jewelry–and looking at the relationships formed in between. [

Source: 10x.

]
March 3, 2014
Last night's Oscars provided a smart balance between "in your face" statement necklaces and too understated (stud earrings alone? Really?) Check out the dazzling choices!
February 26, 2014
Who says that a t-shirt and jeans means boring? The magic of jewelry is that one piece can give life to the most average outfit. Check out some of these statement necklaces.
February 25, 2014
Buying jewelry online requires as much knowledge as possible. No one likes to be surprised when receiving that special box in the mail!
So this little handy chart found on eBay helps you understand your earring choices better.
| | |
| --- | --- |
| Teardrops | True to their name, teardrop earrings are shaped like a teardrop or dewdrop. These earrings are generally made from solid gold, silver, or gemstones. They are designed to dangle below the earlobe. Teardrop-shaped earrings that feature extensive surface adornment are usually sold as dangle earrings. |
| Dangles | Dangle earrings are those pieces which dangle below the earlobe. They may be composed of beads, rounds, squares, curved pieces of metal, or die-cut metal designs. Dangle earrings are available in both wide and narrow styles. Pay close attention to the width of a dangle earring as different widths are suitable to different face types. |
| Studs | These classic earrings are composed of a single stone, ball, or small design that sits directly on the earlobe. They feature traditional earring posts. Pearl earrings that sit next to the ear may be described as stud earrings. These styles look good on every face type. |
| Chandeliers | Chandelier earrings combine the design elements of stud and drop earrings. These earrings feature a decorative stud that sits on the earlobe and a component that dangles below the earlobe. Many of these earrings widen below the earlobe and then taper back to a small point. |
| Hoops | These classic earrings are made from rounded or flat pieces of metal or plastic that run from the front to the back of the earlobe. They are available in a wide variety of circumferences and widths. |
| Huggies | Huggie earrings are very similar to hoop earrings but are usually much smaller. These earrings generally have a wide, small hoop that clamps onto the ear with a post or clip-on mechanism. They are made from both plastics and metals. |
| Cluster | Cluster earrings sit on the earlobe but feature clusters of gemstones, rhinestones, or other decorative elements that may extend beyond the bottom of the earlobe. These earrings are best suited to dressy events as they tend to be very flashy. |
February 24, 2014
Our clients have mixed feelings on yellow gold. It tends to be a metal they either always wear or rarely wear, but according to this JCK article, yellow gold has been selling better this last year than years past. And with these examples, you can see why. Remember, if any piece tickles your fancy, we're happy to re-create a piece with your personality and specifications in mind–that's what we do best!
Here's what jewelers are saying about yellow gold:
Carroll's Jewelers, Fort Lauderdale, Fla. Blue sapphire pendant set in yellow gold (pictured: Ryan Jonathan 10k gold pendant, $1,000). "White gold is what we usually sell, but we have tourists who come in and buy yellow," says Robert Moorman, Jr., owner.

Talisman Collection, El Dorado Hills, Calif. Talisman Collection gold four-leaf-clover pendants (pictured: Jennifer Meyer pendant and necklace, $1,325). "I have a person in town make them, and they were really hot, hot for Valentine's week," says owner Andrea Riso.

Castiglione Jewelers, Gloversville, N.Y. Basic solitaire engagement mountings, private label, $500 and up (pictured: 14k gold solitaire from ice.com). "We've been selling quite a bit of yellow gold jewelry now as opposed to years past," says owner Andrew Castiglione.

The Goldsmith, Palo Alto, Calif. 14k yellow gold wedding bands with rubies, private label, starting at $1,200 (pictured: gold and ruby bands from Ritani, $1,830). "We do a lot of custom work in yellow gold, so it's all kinds of things," says owner Vickie Wilson.
February 19, 2014
As this video points out, birthstones can range in price considerably (think ruby versus garnet), but you also have the possibility of choosing the month's birthstone (versus the star sign).
February 18, 2014
Remember "back in the day" when mixing your metals was akin to wearing white shoes after Labor Day? Well thankfully we've busted down those old fashion restraints and made room for the following pieces (seen at the VicenzaOro show, which took place Jan. 18 to 23 in Vicenza, Italy).
From the Onda collection, Vendorafa's 18-karat hammered yellow gold bracelet features 18-karat white gold stripes with diamonds.
Adami & Martucci's signature mesh necklace is sterling silver with 24-karat yellow gold plating and 18-karat yellow gold accents ($265).
Fope Gioielli's 18-karat gold "Wild Rose" rings with diamonds
Nouvelle Bague's new Urban collection features these bracelets, which are 18-karat gold and steel with colored enamel.
Check out more at at National Jeweler!