September 29, 2015
Many of us struggle with feeling "good enough" in the looks department. Those insecurities form a hole inside of us that we can spend a lifetime (and a lot of money) trying to fill. But interestingly, beauty is much more accessible than we're lead to believe by the media and marketing powers that be.
Take a look at this interesting study found in Psychology Today:
Mehrabian and Blum began their research with a simple idea – they wondered what physical features were most attractive to the opposite sex. More particularly, they wanted to discover the relative importance of stable features (e.g. body type and height) versus changeable features (e.g. grooming and clothing) in physical attractiveness. In essence, they wondered what combinations really made someone "attractive".

To answer that question, they presented 117 male and female university students with pictures of 76 partners of the opposite sex, varying in different physical features. They had the students rate the attractiveness of the people pictured and also measured their emotional responses. Then, through statistical analysis, the researchers figured out who was attractive – and why.

Their shocking finding was that, by far, the most attractive features fell under the category of "self care". These features were changeable aspects like good grooming, neat hair, nice fitting and quality clothing, good posture, and healthy weight. Essentially, the most attractive features about a person (male or female) is that they put forth some effort to shower, groom, select some nice cloths, stand up straight, and manage their diet a bit. No plastic surgery, major gym time, or extensive overhauling required.
Did you read that? No extensive rehaul needed! So the next time you're doing a number on yourself, remember the basics (like grooming, exercise) go a long way…and it's way easier than trying to be perfect!
September 28, 2015
Our clients simply love their pink gems. Quintessentially feminine and just plain pretty, there are a wide array of pinks that make us ooooh and ahhhh.
But this vivid pink? It's a showstopping shade.
And rightfully so. Starting at $23 million, it had better take our breath away!
Christie's will offer a 16.08 ct. cushion-shaped fancy vivid pink diamond at its Nov. 10 Magnificent Jewels sale in Geneva and estimates the rare gem will sell for $23 million–$28 million. 

The diamond is the largest of its kind to ever be sold at auction, and, in fact, only three pure vivid pink diamonds over 10 cts. have ever appeared at auction.

The spectacular stone is set as a ring, surrounded by a double row of pavé-set white diamonds and a third row of pavé-set pink diamonds. The band consists of circular-cut white diamonds set in platinum.

"As large and rare colored diamonds of this caliber become increasingly hard to locate, this 16.08 ct.  fancy vivid pink diamond comes to market at a time when great gems are mirroring prices achieved for masterpieces in the world of fine art," said Kadakia, Christie's international head of jewelry. "Collectors are looking to jewels as savvy investments that are both beautiful and can appreciate considerably in value over a relatively short period of time."

Source: JCK
Looking for something a little closer to home budgetarily? Call for pricing.





Delicate pave set diamond ring with 1/2ct fancy pink cultured diamond and 1/3ct t.w. natural round pave' set diamonds. Top of ring is 9mm wide and shank is 2mm wide. Also available in fancy blue and yellow.Available Metal: 14kt White Gold And Platinum
Available Stone Size: 1/2ct
Available Ring Size:Â 4 – 8
September 23, 2015
Some things are rare, like the Haley's comet or your kid doing the dishes without complaining or a blue moon.
And then some things are really rare, like this flawless Blue Moon diamond, named after the rarity of it's lunar counterpart. What's even more unlikely? That any of us could afford it.
This fall, the largest cushion-shaped fancy vivid blue diamond ever to appear at auction will go up on the block at Sotheby's, with a chance of setting a new auction record.

The 12.03-carat diamond, named the "Blue Moon" because of its rarity, will lead Sotheby's Magnificent Jewels and Noble Jewels sale scheduled to take place Nov. 11 in Geneva.

The cushion-shaped, brilliant-cut stone boasts an exceptional clarity, declared internally flawless by the Gemological Institute of America.

It comes to market with an estimate of between $35 million and $55 million. If it sells at the high end of that range, the stone could become the most expensive diamond in auction history.

Source: National Jeweler
September 22, 2015
Prepare to have your mind blown. This mind pretty much does everything except take out the trash or wash the dishes (then what good is it, she screams!).
But seriously, the amount of detail in this Vacheron Constantin watch is beyond compare…literally. It IS the most complicated watch ever created.
Swiss watchmaker Vacheron Constantin is claiming the title of the most complicated mechanical watch ever made with its Reference 57260. Boasting 57 complications (the previous record holder had 33) and a wide array of functions, the Reference 57260 contains over 2,800 components, each one hand-decorated by one Master Watchmaker using traditional techniques. The watch is also Hallmark of Geneva certified, which means it was assembled, timed, and cased in Geneva and has passed rigorous criteria regarding production, workmanship, and precision.
Mind not blown yet? Check out this space-age feature:
Nine astronomical calendar functions

The third calendar consists of nine astronomical complications. These include one that shows the seasons, equinoxes, solstices, and the signs of the zodiac using a hand on the reverse side outer dial to represent the position of the sun. The position of the gold hand with a sun-shaped counterweight reads off the months of the year in consecutive order, the constellations of the zodiac, the dates of the autumnal and spring equinoxes, the summer and winter solstices, and the related seasons.
No price is officially available for the Vacheron Constantin 57206Â  but the estimates run in the vicinity of $5 million.
September 21, 2015
L'OdyssĂ©e de Cartier moves beyond the constraints of the commercial genre and into, well…an odyssey. Keenly and seamlessly displaying Cartier jewelry throughout, the commercial takes you on a imaginative journey rather than simply "buy me" rhetoric. If all commercials could be this captivating!
As described on their website:
Discover the new Cartier film, a journey between dream and reality.
For the very first time, Cartier has decided to create a cinema epic focusing on its history, its values and inspiration, its artistic and universal scope.

Directed by: Bruno Aveillan.
September 16, 2015
Brooches have seen a slow and steady resurgence over the years, breaking new grounds with funky and fun designs (not your grandmother's broach, in other words!). Peruse these powerful pins and tell us what you think:
Source: Vogue
September 15, 2015
For your arm party:
Always use gold and silver.
Always use turquoise.
Find a good balance between statement earrings and "littles."
And more quick and easy layering tips.
Take a watch.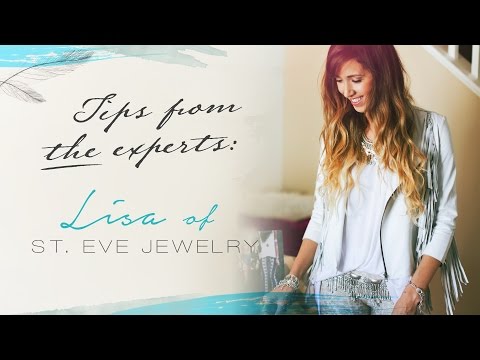 September 14, 2015
The face jewelry that launched a thousand ships…or at least a thousand Instagram accounts. And while this jewelry is more for runway purposes during Fashion Week, we couldn't help but notice its simple, compelling beauty:
According to Refinery 29:
This isn't the Kardashian kind of contouring — each model walked the runway with a custom face piece crafted by Sarah & Sebastian. Each piece tightly outlined the models' profiles. The subtle and statement-making wire added an exclusive touch to the already-gorgeous collection, complete with major fringe, loose silhouettes, and basket-woven suede.

Designer Sarah Gittoes told us that each piece was custom-molded to fit each model and held in place through tension (which means that while it's stunning, it's not quite meant to be worn in real life…unless you can get through the day without opening your mouth).
September 9, 2015
Videos like this give you a glimpse in the process of uncovering a gem. Watch this jeweler encourage a fine black opal out of a difficult piece of Lightning Ridge rough opal, with some pretty cool cutting techniques. If your into lapidary, then its a must watch.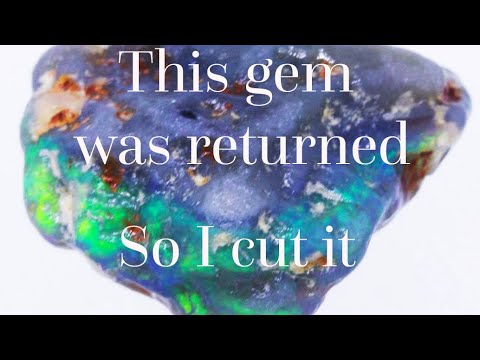 September 8, 2015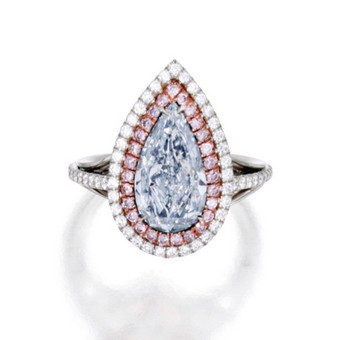 Yes, Virginia, blue diamonds really do exist. But not many. To qualify as a real blue diamond, the stone must be found in nature with this hue. (An enhanced blue diamond has been treated with heat or chemicals.)
Sotheby's recently had the honor of auctioning off this stunning 3.55 carat ring:
A truly gorgeous platinum ring. As often seen with diamonds of this caliber, platinum is used instead of white gold.

The blue pear is surrounded with round pink diamonds weighing approximately 0.25 carat that seem to be emphasizing the beautiful and pure blue color of the diamond.

The price estimation is around $500,000. If we place the setting aside, this means approximately $140,000 per carat. An impressive price tag for a fancy light blue.