April 23, 2014
Full size white gold and diamond football
SWAROVSKI Biker helmet
Dazzling diamond high heels, ringing in at $500,000.
Victoria Secret's 6.5 Million Dollar Diamond Bra
And last but not least…
Gold-plated staples
April 22, 2014
I stumbled across this Q & A at The Knot and it made me realize that many people don't understand the basics when it comes to wedding and engagement ring etiquette. This answer provides you the general rules:
Q.

I'm clueless when it comes to engagement ring and wedding ring etiquette. Do I have to have a wedding ring, or could I just continue to wear my engagement ring after I'm married?

A.

Though there's not necessarily a correct way to do it, most married folks do wear their wedding rings at all times (with or without their engagement ring). After all, it's a symbol of your love, devotion, and, well, the fact that you're no longer engaged — you're married!

Our advice? Choose a wedding ring you love and won't mind wearing all the time. It doesn't have to be a perfect match with your engagement ring. You can choose to wear your wedding ring and engagement ring together on your left hand; wear your wedding band on the left and engagement ring on your right; or just wear your wedding ring. (Many women choose not to wear their engagement rings all the time simply because their setting could snag on clothing, among other reasons). If you really love your engagement ring, you should wear both rings. That way, you can still show off your engagement ring, and your happily wedded status.
Style 102256

Split shank oval halo engagement ring with approximately 3/4ct t.w. round natural diamonds. Fits a 8x6mm (1.52ct) oval shaped center stone (setting only, does not include center stone or matching wedding band).
April 21, 2014
"There's a relationship between the satisfaction of purchasing jewelry for yourself and the high you get from having chocolate. It's luxurious and gratifying."
Philadelphia-based designer Anthony Lent has teamed up with a chocolatier to create gourmet chocolates that mimic his sculptural jewelry.
Lent's "Kiss me" ring and "Moonface" motifs are the first to be candied by Francisco Migoya of Hudson Chocolates in Poughkeepsie, N.Y.
[above] The "Kiss Me S'more" chocolate, made with milk chocolate, crushed graham crackers and toasted mini marshmallows with a dark chocolate outer shell and gold luster dust to reflect Lent's 18-karat gold designs.

Lent's 18-karat gold necklace from the Anatomy collection rests on its chocolate counterpart, which is 6 inches long.
April 19, 2014
Video from the 1940′s/1950′s of the Schubach Jewelers store in Boise, Idaho, along with footage of grandpa William, my father Stan Sr, my brother and sister Stan Jr and Nanette, their mother Connie and Connie's mother Nancy. Thanks Stan for digitizing the video!
April 18, 2014
The most beautiful earrings in the world don't mean much if it doesn't suit your particular face shape.
This woman does a great detailed job of explaining face size and what earrings fit well.
Take a moment to watch this video then find a pair of earrings that fit you!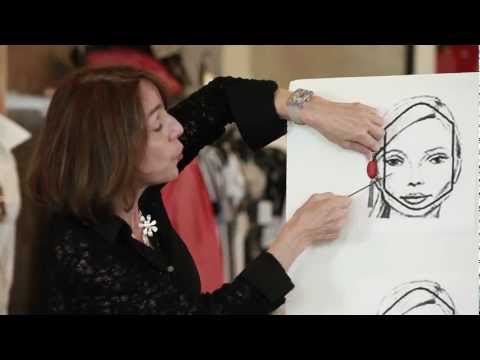 April 15, 2014
While it seems like a natural extension, we don't often see jewelers moving into the world of creating high-end handbags. Bochic took that leap to some beautiful results.
Jewelry brand Bochic will introduce a line of evening clutch bags in September, marking the brand's first extension beyond fine jewelry.

Bochic will introduce the handbag collection at the Westin Hotel Paris during Paris Fashion Week, after which it will be available worldwide through events such as trunk shows and on the Bochic website.

Price points start at $2,500.

The bags in the  initial collection are called "Alicia, "Gilda" and Madeleline," each inspired by film noir of the 1950s. Each style includes detailed gold handles that were made in Rome, meant to complement the leathers used for the body of the bag–crocodile, python, serpentine and sting ray.

To connect the line with the brand's heritage, each bag also will feature jewelry detailing, created the same way as Bochic jewels, using enamel and natural precious stones such as rock crystal, onyx, and turquoise.

Source: National Jeweler

The "Madeleine," pictured above,  starting at $2,500.
April 14, 2014
And I think the overall ring is JUST GORGEOUS! You guys really nailed the look of the pictures I sent you. I love its daintiness and vintage-ness. I think you guys just did a beautiful job recreating it and I couldn't.be.happier.
April 14, 2014
Nicki Minaj is known for her over-the-top costumes and award ceremony outfits.But at the MTV Movie Awards last night, she chose a more subdued and sophisticated look.We like it because its a great example of jewelry perfectly paired with a sleek black dress with clean lines.Take note of the cage necklace, drop-hoop earrings, multiple arm cuffs and bracelets, and statement rings.
April 9, 2014
More and more eco-friendly jewelers are coming up with pieces that contribute to a cleaner world, whether using recycled materials, or in this case, smog.
"It's weird how the city [Beijing] is covered in smog and no one is doing anything," Daan Roosegaarde remembers thinking.

What started as a common — albeit worrying — observation, soon became a quest for the designer: He wanted to find a way to incorporate the noxious mixture of pollution and fog in another one of the poetic-pragmatic projects for which he has become famous since founding Studio Roosegaarde some six years ago.

The result is a highly ambitious project by Studio Roosegaarde to create smog-free parks in Beijing.

Daan Roosegaarde found a way to incorporate a noxious mixture like pollution and fog to create a high-end designer product, the smog ring. Credit Studio Roosegaarde

And a by-product of that project is the smog ring, an elegant piece of designer jewelry intrinsically linked to the new reality of urban pollution and the fight against it.

"I like the notion that you take something high-end and combine it with the problematic," he said.

The ring — which is still in its design phase — will be a simple band mounted with a small clear center stone containing smog particles extracted from Beijing city air. The black dust, which is largely carbon soot from coal, will be configured in a millimeter cube, to symbolize a cubic kilometer of smog that each ring has cleared.
April 8, 2014
It's happened to all of us (well, all who wear earrings!). You lose the back of your earring and you're not at home to find a spare in your jewelry box.
Here are some DIY approaches to get your through the evening:
Pencil eraser: Make a hole in the eraser with the earring. Tried and true method.

Cork: Same principle holds true with a cork. Just break off a little piece and make a hole

Aluminum foil: (Bet you didn't know this one works!) A piece of foil folded several times over will do the job.